It's just doesn't feel right, you know. The week starts with the Lord's Day (i.e. Sunday), and that's the day God's people, since the beginnings of the church of Jesus, have gathered: Acts 20.7; 1 Cor 16.2; Rev 1.10.
We gather on this first day of the week: because that's the day Jesus arose from the grave … because we begin the week as new creations in Christ (2 Cor 5.17), and because we begin (not end!) the week in the rest Jesus has earned for us.
And, then, comes this: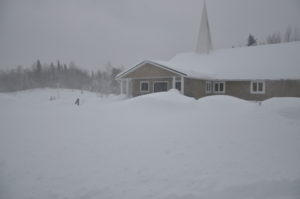 And, this …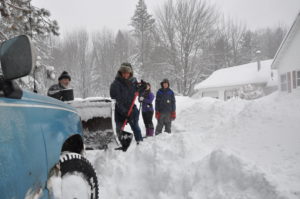 And, this …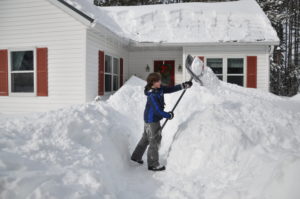 And, this: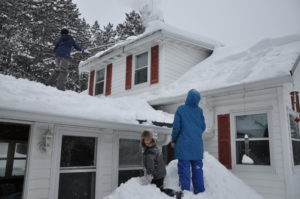 And, just like that, no big gathering for worship on Sunday. And that feels disorienting. A big letdown, like falling through a hole in your roof when you're up there shoveling. Be careful up there, everybody!
But, we did gather. Just six of us. And we did pray for you all. And we did sing the doxology. And the tradition of SOMEBODY meeting at Woodland each Lord's Day did continue. And God's big-picture plan for his worldwide church did continue to move toward that precious return of Jesus our Lord. And God was and is glorified.
And we're planning to meet again this coming Lord's Day. Right, everybody?!
So, hang in there and lean forward—just like when you step from your ladder to your snow-covered roof. The snow will (probably) catch you, and the Lord will do His good work in each of us when we rely on Him this week.
And don't be discouraged about the weather. Think on what is true (Col 3.2-3). And, if you're a local reader around here, plan on joining us this coming Lord's Day, at Woodland.
See you then …