It's quiet in the chicken house, for once. And that seems strange, because each morning for the better part of a year I've started my morning with Pepper, the Barred Rock rooster.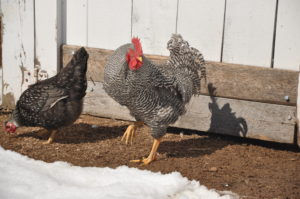 Pepper was an accident, as people sometimes say. A year ago when we picked up our box of peeps at the post office, we'd hoped for all "layers". But something was different about Pepper. As spring turned to summer and our chicks grew, Pepper found (her?)self often rejected by the other girls and would wander off alone. When Pepper didn't lay an egg and finally threw back his head and crowed like a lonely adolescent boy, we knew we had a rooster.
Pepper had his moments. In the fall when Grandma Katie's Yorkie dog, Penny, escaped to pursue Sabel, everybody's favorite Red Star hen, Pepper gave chase. It was a good picture—Sabel out front, Penny close behind, Pepper in hot pursuit of the dog, and eight-year-old Henry, coming up behind with Coco, the Toy Australian Shepherd on a leash. A lap around the house, through the garden and the woodpiles and Penny caught Sabel, but couldn't execute the kill before Pepper was there to rescue.
Pepper won points that day, but there was another day. It was the day early this spring when Pepper got proud. He lost sight of who he was, a lowly chicken, after all. His day and night (by now) crowing came to mean, we understood, that he believed he could chase anybody he chose. As Pepper grew proud he began to jump on the hands, and bodies, of those who fed him. Jack and Henry grew afraid to approach the chicken house. Amanda slipped and fell once while fending him off. Then, Pepper came after me. Carrying a load of wood, I caught sight of him coming, lost my balance while spinning to address him, and then, under the weight of the crashing wood, landed in a bed of snow and mud. I fought him off with a six-inch stump of wood that had been broken in two as I'd swung it at the dandered-up rooster. I knew right then we'd reached the point of judgment.
After that—while Pepper crowed, staking his claim to the chicken house, the yard, and everything and everybody else—he was being discussed. We'd sit at the dinner table talking about Pepper. He might have even come up in our family prayers. He appeared in to-do lists: "deal with Pepper". The universe, and Pepper's responsibility in it, turned out to be a lot bigger than Pepper ever accounted for.
Then, two Saturdays ago, I took Pepper to a neighbor's farm and, well—as farmers say—"moved Pepper on".
There's a moral lesson in all this. In Matthew 12.36-37, Jesus says, I tell you, on the day of judgment people will give account for every careless word they speak, for by your words you will be justified, and by your words you will be condemned (ESV).
Those are striking words. They mean that there's coming a day when each of us will have a conversation with God about His evaluation of our lives. In the context of Matthew 12, the religious leaders of Jesus' day had just stamped their judgment on Jesus: "Jesus isn't from God, not worth listening to … from Satan, even." This they crowed out in their own little chicken house while God the Father waited at the family dinner table, taking notice.
And so it is for us. God's evaluation of our lives will be solely about how we've responded to Jesus. Did we ignore Him or abuse Him, starting in our actions, moving to our casual speech, extending to our thoughts even? Romans 2.16, speaking of those who don't even have God's law in the Bible, indicates the scope of God's evaluation of our lives: … their conflicting thoughts accuse or even excuse them, on that day when, according to my gospel, God judges the secrets of men by Christ Jesus.
Every bit of our lives (actions, words, thoughts) will be used as evidence of what we've made of Jesus. Sobering, isn't it? … But even that isn't the point.
There is therefore now no condemnation for those who are in Christ Jesus (Romans 8.1)
That's the point, and the Goods News! What redemption there isn't for a rooster gone bad, there is for us. My actions, words and thoughts will be taken into account, but they'll be covered by Christ's work. And that I receive by faith. That's the Gospel!
So, while the kids enjoy the chicken house now turned hen house, and while I wake up under my own power and listen to the morning quiet, these moments of  tranquility become their own pictures of my peace in Christ.
And that is truly a thought to wake up to!