Among my favorite buildings in the old logging community of Westboro, Wisconsin is Jordan and Anna's house. Built in the 1890s, the structure served as the meeting place for the Swedish Methodists until that congregation disbanded, sometime before the 1970s. Soon after, the congregation that today is Woodland purchased the structure for our first meeting place. In fact, Woodland's first pastor, Rev. Richard Neil, preached right where Jordan and Anna sit for dinner.
Now, Jordan and Anna had to make restoration. The building had to be hoisted up and a new foundation laid. A metal roof and new siding had to be added. Some things were preserved, like the hard wood within and the really excellent gothic-looking windows. Jordan and Anna's house resembles the original structure, but it is new.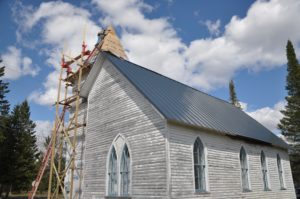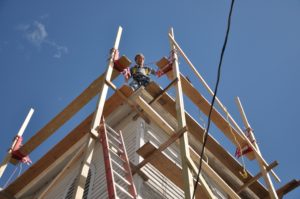 The restoration of an old building gives us a picture of God's end game in restoring our work to its original purpose through Christ. As we've been thinking about work, we've discussed the goodness of work—work matters, because God works. God Himself created image-bearers and commissioned us to flourish (Genesis 1.28). This, God said, is "very good." We've also noted the frustration of work—work frustrates, because people sin. The poor workmanship of our first parents in the garden resulted in the fall of creation with catastrophic consequences for our ability to flourish in human relations and in drawing a livelihood from the earth (Genesis 3.15-19, especially). Dark as this is, we find good news in our redemption in work—work reveals our relationship to God, because Christ redeems. The work of Christ, we learn, buys back our relationship with God for those who come to God through faith in Christ. That's good news! But, even here works remains frustrating for us who live between Christ's two comings, because " … the creation waits with eager longing for the revealing of the sons of God" (Romans 8.19). Where we are today—pressing forward toward Christ's return—our work reminds of constantly of our need for Christ.
Scripture also gives us pictures of the final state of our work. But, like those birthday-favor, toy kaleidoscopes that pile images on top of images when we point them toward the light and look through them, we're given only a composite view of the future. (The nature of prophecy is such that it's hard to hyper-analyze or create elaborate systems for things that haven't happened yet.) Here's some things we need to know:
God will restore creation (Isaiah 65.17-25). Among the many Old Testament pictures of restoration we receive, I like Isaiah 65. This image describes the curse of Genesis 3 worked backwards. At the final coming of Messiah relationship with God will be restored: "Before they call I will answer; while they are yet speaking I will hear" (:24). Human relations will be restored: "They shall not labor in vain or bear children for calamity; they shall be the offspring of the blessed of the LORD" (:23). Work relations will be restored: "They shall build houses and inhabit them; they shall plant vineyards and eat their fruit … and my chosen shall long enjoy the work of their hands" (:21 … :22). Creation won't struggle (red in tooth and claw) with itself: "The wolf and the lamb shall graze together; the lion shall eat straw like the ox, and dust shall be the serpent's food" (:25). Notice how physical and material this restoration is!
Sometimes, it's helpful for me to think about what it would be like to do my particular work, but without fallenness. How would it be, if I could understood biblical passage without mental strain and fear of making mistakes? How would it be, if I could only learn and remember everybody's names?! I work best when I rest in God and ask Him to gift me for His work, so that I kinda sorta work outside my fallenness. It's only a hunch, but I suspect that's what's going on with spiritual gifting. Sometimes, God meets us now like we will know Him then.
God will restore creation through Christ (Acts 3.18-21). Restoration involves God's work in stages. We saw that last week in Romans 8; we see it in other places. Christ suffered on the cross to restore us to God. That's in the past for us now. God's work of restoration will be completed when Christ comes again:
"Repent therefore," is Peter's word to his fellow Jews after Christ's return to the Father, "and turn back, that your sins may be blotted out, that times of refreshing may come from the presence of the LORD, and that he may send the Christ appointed for you, Jesus, whom heaven must receive until the time for restoring all the things about which God spoke by the mouth of his holy prophets long ago" (Acts 3.19-21).
Note how Christ's once and future work involves our participation. We're to "repent," to have a change of mind with regard to Christ. This repentance has everything to do with our work. For me—I've come to discern—I need also to repent of my tendency to try to solve all the problems in my life on my own. So, for example, before jumping into my email first thing in the morning, I need a long meditation. I need to reflect on my "creatureliness," the limits of my human ability. I need to ask the LORD to accomplish His work through me, and in His timing. In doing so, I once again begin to know just a little bit of that restoration that I'll know fully when I work in eternity.
God will restore creation through Christ to reclaim the work of nations (Rev 21.1-5a … 22-27). The final two chapters in Revelation give us what we need to know about life after Christ's return. "Then I saw a new heaven and a new earth, for the first heaven and the first earth had passed away …" (:1-2a). Interesting is the word choice here. The Apostle John could have chosen neos (new, as in totally different) or keinos (new, as in the same, but restored). He chose the later. This is our world as it should be! Except now, heaven has come to earth. God dwells with His people!
And, there's redeemed work here. "The gates [of the New Jerusalem] will never be shut" (:25). In ancient cities gates were the places to transact business. And, they were closed at night for protection. No need here! God is with His people. And, through these gates will pass " … the glory of the nations" (:26). Note again how physical and "real" it all is. Work will endure into eternity. Only, we'll have God Himself as our Master. And, we'll work without the curse.
Work endures, because God restores. 
So, what do we do? What difference do these pictures of restored work make for me this week? Well, Jordan and Anna need to keep building their house in hope—not hope that God MIGHT restore, but hope that God WILL RESTORE. We hope because the final act of redemption hasn't happened YET! And, you and I need to keep working at what we've been given to do … in hope … in faith … asking God to establish the work of our hands in Christ.
Gather with somebody else and think through these questions about how work will endure, because God restores: 
Which of the three passages we've looked at surprises you most? What about them is new or different for you?
What would YOUR work look like, if you weren't fallen? Can you even imagine that picture? Try for a minute. 
What does it look like for you to work in faith, trusting that God will help you flourish (Genesis 1.28) and will "establish the work of your hands" (Psalm 90.17)? Think, maybe, of the difference between the times when you've tried to work under your own power and the times when you've trusted in God for the results. 
How do you need to grow in the way you think and feel about your work?