Keep me as the apple of your eye … pleads Psalmist David of God (Psalm 17.8)
… he kept him as the apple of his eye, Moses writes of God's care for His people, Israel (Deuteronomy 32.10).
… keep my commandments and live; keep my teaching as the apple of your eye … the LORD instructs His people (Proverbs 7.2).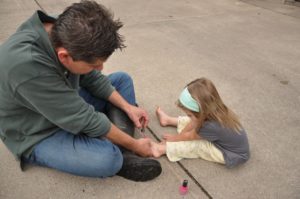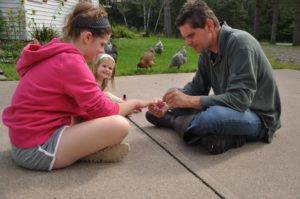 School has begun, in our little house in the Northwoods. And, while other schools convoke the new school year with a dance or homecoming football game, we mark the beginning of the academic year with … the dolly tea-party!
It works like this: The girls—led by Lead Teacher, Mommy Amanda—prepare cupcakes and other delectables. Children personalize nameplates and table settings. Preparation lasts several days. It is to be a sumptuous affair.
Daddy Bryan (school principal) inaugurates the event itself by painting the girls' nails, in the driveway. Then, the boys help one another into black suits and—bringing select stuffed animal guests (the famous Teddy for Daddy, Prancer for Henry, Baby Tiger for Jack, though he'd now prefer you didn't know about it)—the boys approach the formal front entrance to the house. Girls hands are kissed, and we all sit down to tea. Greta Grace's Emma and Sara likewise attend—thus, the dolly tea party. After tea and cakes, we all dance. Louis Armstrong, Ella Fitzgerald, that kind of thing. When the fun has been had, the boys depart till the next year, and lessons begin the next day …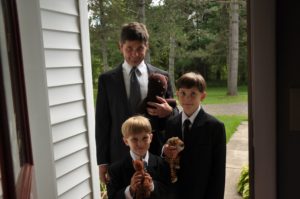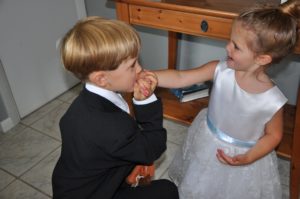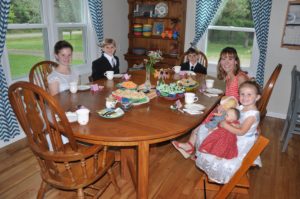 There is history to all this. In the summer of 2013, following a season of great loss for our family, we determined to celebrate what we had been given. We had dollies and stuffed bears, no doubt, but we also had one another and every opportunity to celebrate outrageously, and in ways that young children can understand.
The connection to our home learning goes something like this: if we as parents desire our children to take God, His Word and His world seriously, we'd better understand something of the Father's great love for His people. A beginning to this life-long study might just be to learn what it means to be dear to one another. And, if that love for one another be so great, then Oh! how much more must be the love of the Father for His children! And, if the hurts and loss known to every family might be so redeemed by parents who drop to their knees to create and discover and play and heal, then how much more must be the riches of our great Creator who gives us all things to enjoy for our present and eternal good and His great glory. So goes the formation of our imaginations in truth.
And so, we've begun again … the good, the true, the beautiful. And, it all begins with eye apples and dolly tea!